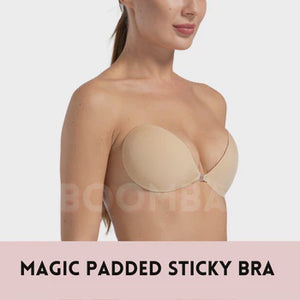 Boomba Magic Padded Sticky Bra
BOOMBA's Magic Padded Sticky Bra is uniquely designed to add cup sizes discreetly.
The natural padding in BOOMBA's sticky bra eliminates the look of bulkiness that other padded sticky bras usually have. Ours is designed to curve with your breasts, creating a natural fuller look.
Unique padded design; adding up to two cup sizes

Front clasp closure for a more defined cleavage

Lightweight and breathable 

Perfect for backless and strapless clothes 

Delivers all-day comfort while giving you an extra oomph factor

Reusable and washable up to 20 times